PL2303TA USB UART RS232 adapter

This is two chip version, it is

RS232

, not TTL

Pinout: VCC(5/3.3v)/GND/TXD/RXD

Baut rate: 9600 ~ 256000bps

Self-powered, no need extra power adapter

VCC 5v directly from USB(5v@500mA)

Support Win 7/8, Linux, Win CE, Win 98/2000/ME/XP, etc

Black housing optional

Size: 45mm(L)*13mm(W)*7.3mm(H)

CE, FCC, RoHS

PL2303 USB

RS232

leve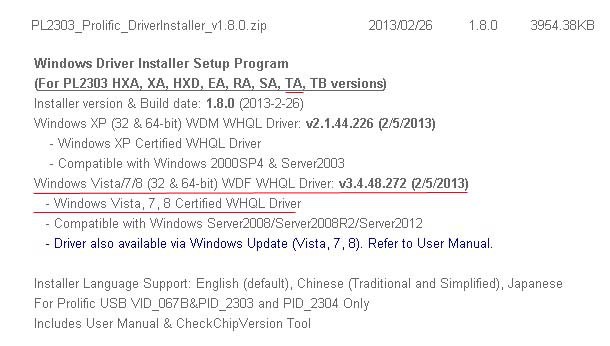 About Sinforcon
Sinforcon is a specialized manufacturer in cable assemblies with 3000square meters manufcturing sites and 300 works in Shenzhen, China.
Main products are USB converter cables: usb to RS232, USB UART TTL 3.3v level and USB UART TTL 5v level. USB RS485 to RJ11, RJ45 cables, USB RS422 cables, USB Parallel cables, USB to Audio cable. The chips are availavble for PL2303, CP2102, FT232RL, ZT213. SP485, MAX3232, CM119, etc. These products are widely used in POS terminal applications, serial mouse, modem, router cotrolling, data acquisition and industrial automation applications.
The products and service are widely accepted by the customers from more than 60 countries and regions. Most products are certificed by CE, RoHS, CCC
Siforcon means Sincere for connecting. We will be keeping Sincere for customers and contnuous developing on connecting cables and hope to establish business relationship with the customers all over the world on the base of mutual equality and benefit.